Communicate. Communicate. Communicate!  You've heard this but do your leaders do it? Do you know which way your company is headed?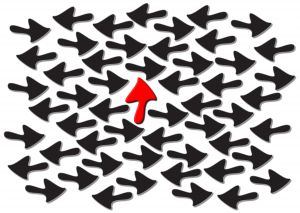 If leaders don't constantly communicate or are not clear about the direction of their company, there's a void. That void gets filled by people who work on their own agendas. It's only natural. They may be well-meaning but resources and time is wasted, slowing productivity.  Here's how a leader can gain clarity
Communication is equally important when a change initiative is underway because there's resistance and fear going into the unknown. eBay actually faced this. John Donahoe, CEO of eBay, told The New York Times what his leadership team was facing as they looked to make change at eBay:
"It was clear the world had innovated around eBay and eBay had stayed with the same formula. Saying that was considered heresy. With any company that's been this successful, there's enormous momentum to keep doing what you've been doing and hope the world will go back to what it used to be."
Is your company or team facing the same hurdles to entrenched thinking and resistance to change? Here are some video trainings and ELearning courses to help you better manage change and communication:
Leadership change management E-Learning course: Six short modules that can be watched in any order. Great in combination with a blended learning program on communication and change:
better manage the effects of change in their organizations
help leaders to make behavior change to succeed with increased responsibilities
effectively communicate vision and buffer teams facing change
expand influence with others
create a vision for change
become a catalyst for change
Wisdom of Teams Video Training: Communicating and empowering your team to win.