by Karlin Sloan
Resilience is "an ability to recover from or adjust easily to misfortune or change." Merriam-Webster's Collegiate® Dictionary, Eleventh Edition  
Resilience helps us steer through the everyday stresses and hassles that fill modern life, and helps us bounce back from adverse events such as a job loss, divorce, or a death in the family.  We can become either helpless and resigned to our fate or we can use our internal resources to bounce back.  Resilience helps us reach out into the world and find renewed purpose and meaning in life.  This allows us to achieve what we are capable of, both individually and organizationally.
What I find really exciting about resilience is that it empowers individuals and the organizations they populate to transform, adapt, and change in positive ways.
Tests of Resilience
During this "Great Recession" as I have heard our economic reality referred to, resilience becomes an ever-more important attribute for leaders, who must remain flexible and adaptive during rapid, sometimes unending, change. The best leaders in uncertain or stressful times share a set of attributes that can be developed and cultivated by all of us:
1.) Accepting the Real, and Focusing on the Future
2.) Building Relationships and Community
3.) Viewing Challenges as Opportunities
One of my favorite examples of resilience in the face of seemingly unending adversity is the leadership of Ernest Shackleton, Antarctic explorer, and the journey of his ship, The Endurance. If you're feeling sorry for yourself right now, put yourself in Shackleton's shoes!  In December of 1914, Shackleton's crew set out to traverse the Antarctic continent as one of the last frontiers of the golden age of exploration. On January 19, 1915, their ship was frozen in pack ice, never to sail again.
Known to his men as "the boss," Shackleton engaged the men in constant activities, both work and play, as they camped on the ice, waiting for the coming thaw. He encouraged unity with his team by making everyone equal, removing all rank, and giving them a new shared mission – to keep every man alive. 
With every new, catastrophic event, from being stranded on the ice,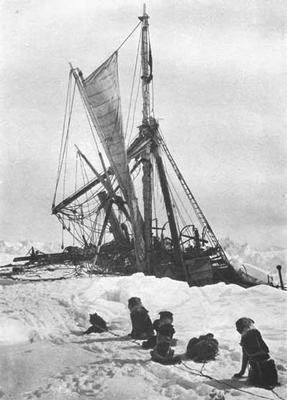 to losing the ship, and later having to sacrifice their beloved sled dogs to sate their hunger, the men of the Endurance were buoyed by Shackleton who kept a focus on the future, and looked for solutions at every turn. 
When the thaw came and the ice began to break up, the Endurance crew set out in three lifeboats, carrying almost nothing with them, to find dry land. After five days at sea in temperatures of -20 degrees farenheit (-30 C), they reached Elephant Island, a desolate place inhabited mostly by penguins.  It was soon clear that there was no chance of rescue.  The crew patched together one of the three lifeboats, the James Caird, and Shackleton and five other men set out across the roughest ocean in the world (in hurricane conditions no less) to find the nearest whaling station at South Georgia Island. Upon reaching their destination, three of the men took on the challenge of traversing a vast expanse of glaciers and crossing the island to reach the whaling station. After 36 hours, they reached their goal. 
Stopped from immediately rescuing his men by sea ice, Shackleton finally reached Elephant Island with a tug four months later, then rescuing every single man of the Endurance crew.
Shackleton's ability to accept the real, focus on the future, build relationships and community, and to view challenges as opportunities enabled his crew to survive.
—
Karlin Sloan, MA is the CEO of Karlin Sloan & Company, a leadership development consultancy that empowers executives and their organizations to become smarter, faster, and better. She is the author of Smarter, Faster, Better; Strategies for Effective, Enduring, and Fulfilled Leadership (Jossey-Bass 2006), and the creator of The Resilience Project, a series of programs based on creating greater resilience and long-term sustainability in global organizations. For more information on Karlin Sloan & Company, visit us on the web at www.karlinsloan.com.